Jesus Christ – the incarnate love of God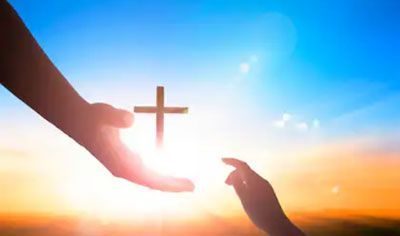 12. Though up to now we have been speaking mainly of the Old Testament, nevertheless the profound compenetration of the two Testaments as the one Scripture of the Christian faith has already become evident. The real novelty of the New Testament lies not so much in new ideas as in the figure of Christ himself, who gives flesh and blood to those concepts—an unprecedented realism. In the Old Testament, the novelty of the Bible did not consist merely in abstract notions but in God's unpredictable and in some sense unprecedented activity. This divine activity now takes on dramatic form when, in Jesus Christ, it is God himself who goes in search of the "stray sheep", a suffering and lost humanity. When Jesus speaks in his parables of the shepherd who goes after the lost sheep, of the woman who looks for the lost coin, of the father who goes to meet and embrace his prodigal son, these are no mere words: they constitute an explanation of his very being and activity. His death on the Cross is the culmination of that turning of God against himself in which he gives himself in order to raise man up and save him. This is love in its most radical form. By contemplating the pierced side of Christ (cf. 19:37), we can understand the starting-point of this Encyclical Letter: "God is love" (1 Jn 4:8). It is there that this truth can be contemplated. It is from there that our definition of love must begin. In this contemplation the Christian discovers the path along which his life and love must move.
13. Jesus gave this act of oblation an enduring presence through his institution of the Eucharist at the Last Supper. He anticipated his death and resurrection by giving his disciples, in the bread and wine, his very self, his body and blood as the new manna (cf. Jn 6:31-33). The ancient world had dimly perceived that man's real food—what truly nourishes him as man—is ultimately the Logos, eternal wisdom: this same Logos now truly becomes food for us—as love. The Eucharist draws us into Jesus' act of self-oblation. More than just statically receiving the incarnate Logos, we enter into the very dynamic of his self-giving. The imagery of marriage between God and Israel is now realized in a way previously inconceivable: it had meant standing in God's presence, but now it becomes union with God through sharing in Jesus' self-gift, sharing in his body and blood. The sacramental "mysticism", grounded in God's condescension towards us, operates at a radically different level and lifts us to far greater heights than anything that any human mystical elevation could ever accomplish.
14. Here we need to consider yet another aspect: this sacramental "mysticism" is social in character, for in sacramental communion I become one with the Lord, like all the other communicants. As Saint Paul says, "Because there is one bread, we who are many are one body, for we all partake of the one bread" (1 Cor 10:17). Union with Christ is also union with all those to whom he gives himself. I cannot possess Christ just for myself; I can belong to him only in union with all those who have become, or who will become, his own. Communion draws me out of myself towards him, and thus also towards unity with all Christians. We become "one body", completely joined in a single existence. Love of God and love of neighbour are now truly united: God incarnate draws us all to himself. We can thus understand how agape also became a term for the Eucharist: there God's own agape comes to us bodily, in order to continue his work in us and through us. Only by keeping in mind this Christological and sacramental basis can we correctly understand Jesus' teaching on love. The transition which he makes from the Law and the Prophets to the twofold commandment of love of God and of neighbour, and his grounding the whole life of faith on this central precept, is not simply a matter of morality—something that could exist apart from and alongside faith in Christ and its sacramental re-actualization. Faith, worship and ethos are interwoven as a single reality which takes shape in our encounter with God's agape. Here the usual contraposition between worship and ethics simply falls apart. "Worship" itself, Eucharistic communion, includes the reality both of being loved and of loving others in turn. A Eucharist which does not pass over into the concrete practice of love is intrinsically fragmented. Conversely, as we shall have to consider in greater detail below, the "commandment" of love is only possible because it is more than a requirement. Love can be "commanded" because it has first been given.
15. This principle is the starting-point for understanding the great parables of Jesus. The rich man (cf. Lk 16:19-31) begs from his place of torment that his brothers be informed about what happens to those who simply ignore the poor man in need. Jesus takes up this cry for help as a warning to help us return to the right path. The parable of the Good Samaritan (cf. Lk 10:25-37) offers two particularly important clarifications. Until that time, the concept of "neighbour" was understood as referring essentially to one's countrymen and to foreigners who had settled in the land of Israel; in other words, to the closely-knit community of a single country or people. This limit is now abolished. Anyone who needs me, and whom I can help, is my neighbour. The concept of "neighbour" is now universalized, yet it remains concrete. Despite being extended to all mankind, it is not reduced to a generic, abstract and undemanding expression of love, but calls for my own practical commitment here and now. The Church has the duty to interpret ever anew this relationship between near and far with regard to the actual daily life of her members. Lastly, we should especially mention the great parable of the Last Judgement (cf. Mt 25:31-46), in which love becomes the criterion for the definitive decision about a human life's worth or lack thereof. Jesus identifies himself with those in need, with the hungry, the thirsty, the stranger, the naked, the sick and those in prison. "As you did it to one of the least of these my brethren, you did it to me" (Mt 25:40). Love of God and love of neighbour have become one: in the least of the brethren we find Jesus himself, and in Jesus we find God.
Love of God and love of neighbour
16. Having reflected on the nature of love and its meaning in biblical faith, we are left with two questions concerning our own attitude: can we love God without seeing him? And can love be commanded? Against the double commandment of love these questions raise a double objection. No one has ever seen God, so how could we love him? Moreover, love cannot be commanded; it is ultimately a feeling that is either there or not, nor can it be produced by the will. Scripture seems to reinforce the first objection when it states: "If anyone says, 'I love God,' and hates his brother, he is a liar; for he who does not love his brother whom he has seen, cannot love God whom he has not seen" (1 Jn 4:20). But this text hardly excludes the love of God as something impossible. On the contrary, the whole context of the passage quoted from the First Letter of John shows that such love is explicitly demanded. The unbreakable bond between love of God and love of neighbour is emphasized. One is so closely connected to the other that to say that we love God becomes a lie if we are closed to our neighbour or hate him altogether. Saint John's words should rather be interpreted to mean that love of neighbour is a path that leads to the encounter with God, and that closing our eyes to our neighbour also blinds us to God.
17. True, no one has ever seen God as he is. And yet God is not totally invisible to us; he does not remain completely inaccessible. God loved us first, says the Letter of John quoted above (cf. 4:10), and this love of God has appeared in our midst. He has become visible in as much as he "has sent his only Son into the world, so that we might live through him" (1 Jn 4:9). God has made himself visible: in Jesus we are able to see the Father (cf. Jn 14:9). Indeed, God is visible in a number of ways. In the love-story recounted by the Bible, he comes towards us, he seeks to win our hearts, all the way to the Last Supper, to the piercing of his heart on the Cross, to his appearances after the Resurrection and to the great deeds by which, through the activity of the Apostles, he guided the nascent Church along its path. Nor has the Lord been absent from subsequent Church history: he encounters us ever anew, in the men and women who reflect his presence, in his word, in the sacraments, and especially in the Eucharist. In the Church's Liturgy, in her prayer, in the living community of believers, we experience the love of God, we perceive his presence and we thus learn to recognize that presence in our daily lives. He has loved us first and he continues to do so; we too, then, can respond with love. God does not demand of us a feeling which we ourselves are incapable of producing. He loves us, he makes us see and experience his love, and since he has "loved us first", love can also blossom as a response within us.
In the gradual unfolding of this encounter, it is clearly revealed that love is not merely a sentiment. Sentiments come and go. A sentiment can be a marvellous first spark, but it is not the fullness of love. Earlier we spoke of the process of purification and maturation by which eros comes fully into its own, becomes love in the full meaning of the word. It is characteristic of mature love that it calls into play all man's potentialities; it engages the whole man, so to speak. Contact with the visible manifestations of God's love can awaken within us a feeling of joy born of the experience of being loved. But this encounter also engages our will and our intellect. Acknowledgment of the living God is one path towards love, and the "yes" of our will to his will unites our intellect, will and sentiments in the all- embracing act of love. But this process is always open-ended; love is never "finished" and complete; throughout life, it changes and matures, and thus remains faithful to itself. Idem velle atque idem nolle [9]—to want the same thing, and to reject the same thing—was recognized by antiquity as the authentic content of love: the one becomes similar to the other, and this leads to a community of will and thought. The love-story between God and man consists in the very fact that this communion of will increases in a communion of thought and sentiment, and thus our will and God's will increasingly coincide: God's will is no longer for me an alien will, something imposed on me from without by the commandments, but it is now my own will, based on the realization that God is in fact more deeply present to me than I am to myself.[10] Then self- abandonment to God increases and God becomes our joy (cf. Ps 73 [72]:23-28).
18. Love of neighbour is thus shown to be possible in the way proclaimed by the Bible, by Jesus. It consists in the very fact that, in God and with God, I love even the person whom I do not like or even know. This can only take place on the basis of an intimate encounter with God, an encounter which has become a communion of will, even affecting my feelings. Then I learn to look on this other person not simply with my eyes and my feelings, but from the perspective of Jesus Christ. His friend is my friend. Going beyond exterior appearances, I perceive in others an interior desire for a sign of love, of concern. This I can offer them not only through the organizations intended for such purposes, accepting it perhaps as a political necessity. Seeing with the eyes of Christ, I can give to others much more than their outward necessities; I can give them the look of love which they crave. Here we see the necessary interplay between love of God and love of neighbour which the First Letter of John speaks of with such insistence. If I have no contact whatsoever with God in my life, then I cannot see in the other anything more than the other, and I am incapable of seeing in him the image of God. But if in my life I fail completely to heed others, solely out of a desire to be "devout" and to perform my "religious duties", then my relationship with God will also grow arid. It becomes merely "proper", but loveless. Only my readiness to encounter my neighbour and to show him love makes me sensitive to God as well. Only if I serve my neighbour can my eyes be opened to what God does for me and how much he loves me. The saints—consider the example of Blessed Teresa of Calcutta—constantly renewed their capacity for love of neighbour from their encounter with the Eucharistic Lord, and conversely this encounter acquired its real- ism and depth in their service to others. Love of God and love of neighbour are thus inseparable, they form a single commandment. But both live from the love of God who has loved us first. No longer is it a question, then, of a "commandment" imposed from without and calling for the impossible, but rather of a freely-bestowed experience of love from within, a love which by its very nature must then be shared with others. Love grows through love. Love is "divine" because it comes from God and unites us to God; through this unifying process it makes us a "we" which transcends our divisions and makes us one, until in the end God is "all in all" (1 Cor 15:28).
FROM "DEUS CARITAS EST" POPE BENEDICT
"GOD IS LOVE "